Getting Back to Basics: Sean Strickland's Redemption
WolfTicketsAI's Predictions are Easier to Read: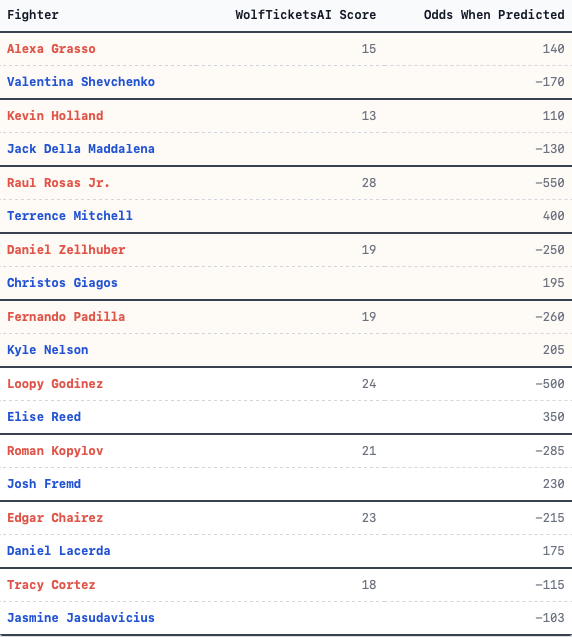 Sean Strickland and Fundamentals
Sean Strickland put on the fight of his life last weekend in Perth to win the Middleweight belt from Israel Adesanya. He did it not because Izzy was off his game, not because he got lucky, he did it by executing a perfect game plan against his opponent.
A game plan built on the basics of striking, against one of the greatest strikers in MMA history.
Izzy has shown world class striking in his KOs against his long time rival Pereira, Costa, and Whittaker. His ability to cut the ring and land precision counters built his entire championship run.
Sean showed up with a high guard from boxing, a simple jab and cross, and a lightly weighted front leg for checking kicks and throwing a straight teep to the body of his opponent.
A more basic gameplan could not exist, and it worked masterfully, his footwork was literally walking from place to place in the octagon, no wasted movement, and it allowed him to fluster Adesanya, land consistent strikes as he doubled up on each of his straight punches and to put Izzy against the cage where he struggled to exit.
Inspired by this win that I didn't see coming I've been working to simply a few things on WolfTicketsAI and many will go live over the next few weeks, but the basics are going to be outlined here along with some commentary about this week's fights.
How is WolfTicketsAI Changing?
WolfTicketsAI operates 3 predictive models(Profit, Odds, and Plain). The important thing is that the Profit odel works the best on the main card and the Odds model works the best on the undercard.
They are now blended into a WolfTicketsAI Score.
For a main card prediction, if both models predict the same fighter then the average of the scores is taken and saved. If the profit model has selected someone else, then only the profit prediction and score are selected and saved.
For an undercard prediction the same logic is used but leading with the Odds model as the base.
This week the predictions are: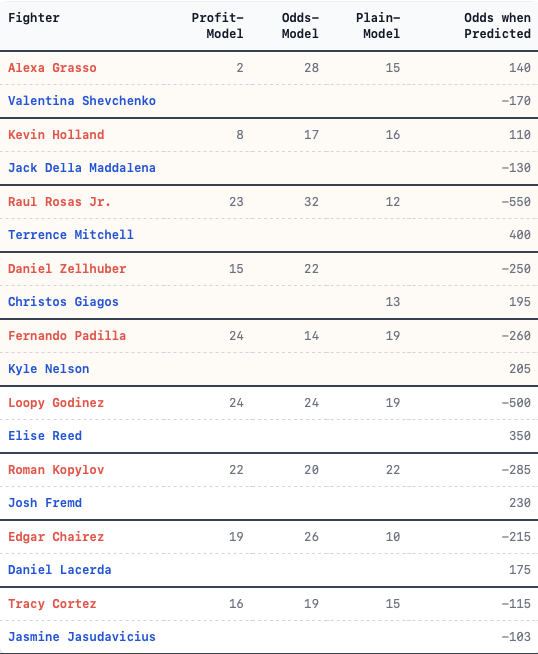 Layers of Information:
As the site is updated going forward information is going to be presented to users with varying degrees of depth based on the level they are on the site.
For example, the homepage will focus on showing the blended prediction table, current odds information, and recent performance figures overall.
Visiting the details page for the event will show more details than before, starting with any specific context or insights I've observed and documented for the upcoming fights overall. The predictions table will show all models and up to date odds.
Browsing a specific fight page gets us to the final level of detail where all predictions are shown, any specific notes are present, and a full breakdown of stats with trend data for each fighter can be explored along with their fight history in the UFC.
Expect each of these changes to be rolled out one at a time over the next few weeks.
Event Breakdown: Grasso vs Shevchenko 2
Note: Claude.ai was used to automate the collection of some of the data below but the specific writing and editing are mine.
Grasso vs Shevchenko 2
Alexa Grasso (16-3): won the Flyweight belt after a face crank submission of Shevchenko in March. Expanding her win streak in the UFC to 5, with victories over Joanne Wood, Viviane Araujo, and Maycee Barber.
Valentina "Bullet" Shevchenko(23-4): The former flyweight champion Shevchenko had defended her title 6 times in a row before the upset loss to Grasso. Prior to that defeat she had earned decision wins over Taila Santos, Lauren Murphy, and Jessica Andrade.
Prediction
| Fighter | WolfTicketsAI Score | Current Odds |
| --- | --- | --- |
| Alexa Grasso | 15 | +138 |
| Valentina Shevchenko | | -165 |
Insights
Grasso shocked the world by submitting Shevchenko in the 4th round to claim the flyweight title. While Shevchenko is eager to reclaim her belt, Grasso's grappling poses a real threat. Shevchenko will need to avoid the ground and implement better striking to earn respect before hoping to regain her title. Grasso has proven she can defeat the former champ, and there's no reason to believe she can't keep the belt here.
Kevin Holland vs Jack Della Maddalena:
Kevin Holland(25-9-1): Holland is on a 2-fight win streak, finishing his last fight via D'Arce choke in round 1 against Chiesa. Before that he KO'd Ponzinibbio in the 3rd round. This was his rebound off of back to back losses, one via TKO as his corner threw in the towel against Stephen Thompson and a loss via brabo choke against Chimaev where he looked totally out of place.
Jack Della Maddalena(15-2): Della Maddalena won his first 4 UFC fights in the first round with 3TKOs and a submission. However on his short notice fight with Hafez he eked out a close split decision. His inability to put Hafez away, and the split part of the decision definitely took some of the shine off of him.
Prediction
| Fighter | WolfTicketsAI Score | Current Odds |
| --- | --- | --- |
| Kevin Holland | 13 | +125 |
| Jack Della Maddalena | | -150 |
Insights
Della Maddalena came in like an absolute wrecking ball upon entering the UFC. However, Holland represents a big step up in competition and experience. Holland's record in controlling the pace and catching fighters off-guard with jokes and creative attacks will be enough to hand Della Maddalena his first UFC loss. Holland is a solid bet if Maddalena didn't learn from his last outing.
Raul Rosas Jr. vs Terrence Mitchell:
Raul Rosas Jr.(7-1-0): Rosas Jr. suffered his first career loss in April 2023 via decision. Prior to that he earned a submission victory in December 2022, along with the accliam that comes with being the youngest UFC fighter.
Terrence Mitchell(14-3-0): Mitchell is a UFC newcomer coming off a KO loss in his debut in July 2023.
Prediction and Odds
| fighter | Prediction | Current Odds |
| --- | --- | --- |
| Raul Rosas Jr. | 28 | -800 |
| Terrence Mitchell | | 500 |
Insights
Predicting Raul Rosas Jr. to win this fight. With odds of -800, he is a strong favorite but the juice might not be worth the squeeze. Rosas Jr. is an exciting young with a strong grappling game, a wreckless pace; attempting 16 takedowns per fight. His youth and aggression give him an edge over the newcomer Mitchell, who was again KO'd in his UFC debut.
Daniel Zellhuber vs Christos Giagos:
Daniel Zellhuber(13-1-0): Zellhuber is a lightweight prospect having won 13 of his 14 professional fights. He is coming off a recent unanimous decision win over Lando Vannata back in April.
Christos Giagos(20-10-0): Giagos originally fought in the UFC starting in 2014 but was released after a 2015 loss to Chris Wade. He competed on regional circuits until returning to the UFC in 2018, losing to Charles Oliveira in his return bout(rough break there). Since returning, Giagos has gone 5-4 in the octagon with losses against Thiago Moises, Arman Tsarukyan, and Drakkar Klose.
Prediction and Odds
| fighter | Prediction | Current Odds |
| --- | --- | --- |
| Daniel Zellhuber | 19 | -275 |
| Christos Giagos | | +215 |
Insights
Predicting Daniel Zellhuber to win this fight. Based on his striking volume and takedown defense, he should be able to outpoint the inconsistent veteran Giagos. At only 24 years old, Zellhuber is a rising prospect while Giagos appears to be on the decline for the second time at 33.
Fernando Padilla vs Kyle Nelson:
Fernando Padilla(15-4-0): Padilla is a new addition to the UFC roster, coming off a KO win against Erosa in his debut fight!.
Kyle Nelson(14-5-0): After a choppy stretch that included a draw against Doo Ho Choi and back to back losses against Jai Herbert and a KO from Billy Quarantillo, he bounced back with a unanimous decision win in his last fight against Blake Wilder.
Prediction and Odds
| Fighter | Prediction | Current Odds |
| --- | --- | --- |
| Fernando Padilla | 19 | -250 |
| Kyle Nelson | | +200 |
Insights
Predicting Fernando Padilla to win in his second UFC fight against Kyle Nelson. Nelson has struggled with consistently in the UFC but did pick up a win in his last bout. This matchup appears set up a showcase for Padilla, who has demonstrated KO power on smaller promotions. Expect Padilla to add another highlight reel finish to his UFC career.
Loopy Godinez vs Elise Reed:
Loopy Godinez(10-3-0): Godinez is currently on a 2 fight win streak after losing a unanimous decision to Cynthia Calvillo. Both of her losses in the UFC have come by decision.
Elise Reed(7-3-0): Reed has traded 2 wins for each loss since joining the UFC, holding a 4-2 record. She has been finished by both submission and TKO in her losses.
Prediction and Odds
| fighter | Prediction | Current Odds |
| --- | --- | --- |
| Loopy Godinez | 24 | -450 |
| Elise Reed | | 340 |
Insights
Predicting Loopy Godinez to win this fight. Reed has solid takedown defense, Godinez's striking accuracy and differential is far superior. She should be able to out-strike Reed for a decision win.
Roman Kopylov vs Josh Fremd:
Roman Kopylov (11-2-0): Currently on a 3-fight winning streak, finishing all opponents via KO/TKO. He has recently finished Punahele Soriano, Claudio Ribeiro, and Alessio Di Chirico.

Josh Fremd (11-4-0): Won a unanimous decision against Jamie Pickett in his last bout. He is looking to continue his 2-fight winning streak after starting in the UFC with 2 back-to-back losses.
Prediction and Odds
| Fighter | Prediction | Current Odds |
| --- | --- | --- |
| Roman Kopylov | 21 | -285 |
| Josh Fremd | | +230 |
Insights
Predicting Roman Kopylov will win this fight, he has been on an impressive KO streak, displaying elite striking accuracy and power to finish opponents. Fremd has more UFC experience but has struggled at times on the feet. While Fremd could look for takedowns, Kopylov should have the advantage standing to continue his KO streak.
Edgar Chairez vs Daniel Lacerda:
Edgar Chairez (10-5-0): Chairez is coming off a recent unanimous decision loss to Tatsuro Taira in July. Prior to that, he had won 2 of his last 3 fights.
Daniel Lacerda (11-5-0): Lacerda has lost his last 4 UFC fights, all by KO/TKO or submission. His last win came in July 2021 before entering the UFC. He can't help but lose it seems.
Prediction and Odds
| Fighter | Prediction | Current Odds |
| --- | --- | --- |
| Edgar Chairez | 23 | -250 |
| Daniel Lacerda | | +200 |
Insights
Predicting Edgar Chairez to win this fight. With 4 straight losses in the UFC, Lacerda enters this bout in a slump after last winning in July 2021 prior to joining the promotion. While Lacerda is more active on the feet, he absorbs more strikes. Considering Lacerda's recent KO losses, Chairez's power gives him a good chance to add another stoppage win.
Tracy Cortez vs Jasmine Jasudavicius:
Tracy Cortez(10-1-0): Cortez is on an unbeaten 4 fight win streak in the UFC and her lone professional loss was her debut in Invicta in 2017. She has notable wins over Justine Kish in 2021 via split decision.
Jasmine Jasudavicius(9-2-0): Jasudavicius is coming off back to back unanimous decision wins against Miranda Maverick and Gabriella Fernandes in 2023. She suffered a unanimous decision loss to Natalia Silva in June 2022.
Prediction and Odds
| Fighter | Prediction | Current Odds |
| --- | --- | --- |
| Tracy Cortez | 18 | -120 |
| Jasmine Jasudavicius | | +100 |
Insights
Predicting Tracy Cortez to win this fight. She has an excellent unbeaten 4 fight win streak in the UFC and appears to have a statistical edge with her high striking output. Jasudavicius has a limited UFC record so proceed with some caution.
Bonus Model Summary:
The last step here was to ask Claude to evaluate all the conclusions above to select the most likely good bets and this was the response:
Based on the analysis of the fights, here are the 3 bets I would make:



1.

 

**Alexa Grasso to win (138)**

: Grasso has proven she can defeat Shevchenko via submission. Her grappling skills give her an edge and she's the underdog to retain her title. At 138 odds, she is a solid bet.



2.

 

**Roman Kopylov to win (-285)**

: Kopylov has been finishing fights with his elite striking recently. Fremd has struggled on the feet before, making him susceptible to Kopylov's KO power. At -285 Kopylov has good value as a confident pick. 



3.

 

**Daniel Zellhuber to win (-275)**

: Zellhuber's striking output and defense should allow him to outpoint Giagos to a decision. Giagos is inconsistent and declining at this stage of his career. Zellhuber has a clear edge and -275 provides good betting value.

These appear to be the most likely outcomes with the best betting value based on the odds and analysis provided. Grasso and Kopylov are strong favorites I have high confidence in. Zellhuber is a solid prospect against a declining veteran. Let me know if you need me to explain or justify my picks further!

If you'd like to see more insights on the predictions signup at: https://wolftickets.ai.
Good luck!