Teaching a Wolf to Speak: Transforming Fight Predictions into Insights
TL;DR
You can place bets with more understanding of the risks and likely result when the data is presented in a written report, rather than just stats.
Click here to jump to this week's predictions.
Just the Facts

The predictions for each model are clear, the vote is unanimous, a slight favorite, bet on Gane.
Do you have enough information to know if this bet is good idea?
Here are the stats to explain that: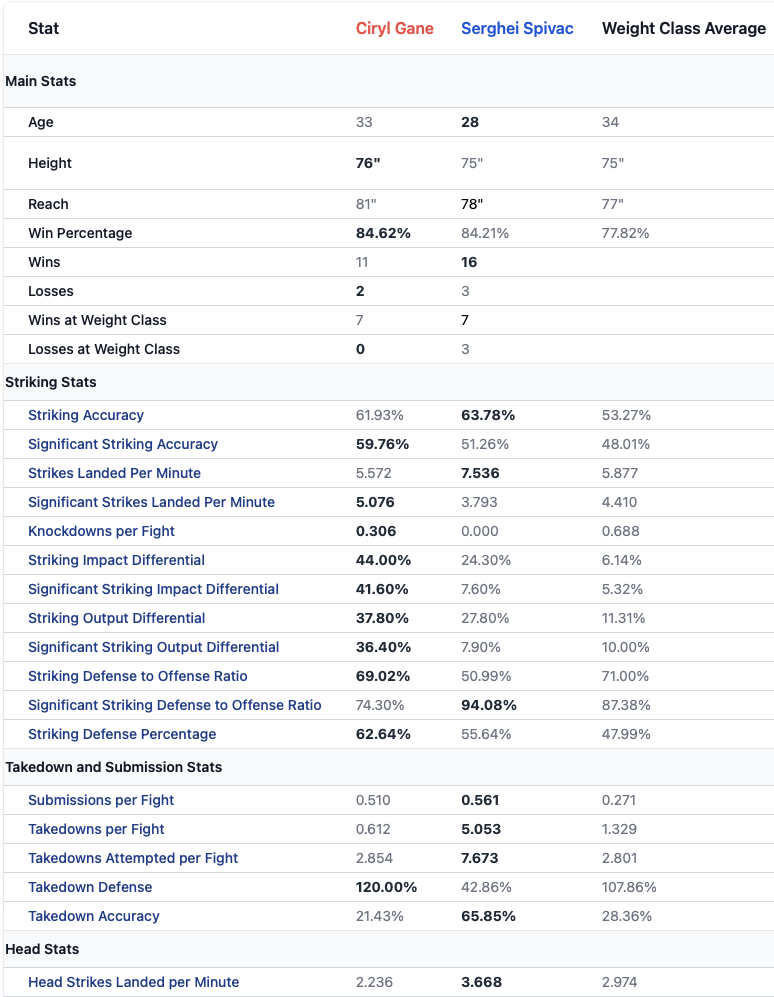 A few of the stats are familiar, focusing on those you see:
Ciryl Gane:
Striking Accuracy 61.93%
Takedown Accuracy 21.43%
Head Strikes Landed per Minute 2.236
Serghei Spivac:
Striking Accuracy 63.78%
Takedown Accuracy 65.85%
Head Strikes Landed per Minute 3.668
Gane is the predicted winner with less striking volume, less take down capabilities, and less strikes landed to the head.
Not exactly confidence inspiring, but there are stats like Significant Striking Output Differential with a sizable lead of 36.4% for Gane vs 7.9% for Spivac.
The models only understand stats, not the intangibles like the quality of opposition faced, recent weight class changes, and what kind of wins or losses have they delivered to their opponents.
To really understand the prediction, you need more information, presented in a digestible manner.
Adding Large Language Models(LLMs)
ChatGPT has been all over the media this year along with many options you can run yourself like Llama2. These models do not predict things like fight outcomes, but when prompted they generate a response in text that is likely pleasing to you.
A chat like interface is a means of interacting with LLMs and the input can be as simple as What is the weather in Syndey?, this is called a Prompt.
An LLM is also limited to the data it was trained on, to get around that the models are allowed to throw words or characters together to make up new information. Making things up is not great for our needs, but we can improve it with Prompt Engineering.
Prepping the Data
WolfTicketsAI calculates a point-in-time collection of stats for each fighter to generate its predictions.
I combine the predictions and stats with historical UFC data and create a JSON file. To see a sample click here.
This provides a way to let the LLM map all the content that is provided, so it can write something relevant instead of just repeating a fight that already happened or simply making up a fake fight.
Getting Useful Responses
Start with a thorough prompt:
You are now an assistant to a collection of other models and statistics that work to predict the outcome of upcoming UFC fights. You distill this information in easy to understand written reports for ufc fans and sportsbettors The next prompts will contain a JSON object with all of the information needed to reason about the predictions and report to the user. The conclusion of your report should be decisive.
This modifies the behavior of the LLM to respond in a very specific way to any new inputs.
After submitting the JSON file from earlier, the response is:
Based on the data provided, this UFC heavyweight fight between Ciryl Gane and Serghei Spivac appears to favor Gane. Gane has more wins overall at 8 compared to Spivac's 7. He also has less losses at 2 vs 3 for Spivac. The prediction models also favor Gane, with him scoring higher in the profit and plain models. The oddsmakers similarly see Gane as the favorite at -175 odds. Looking at their recent fight histories, Gane is coming off a submission loss to Jon Jones but prior to that had won 4 of his last 5. His only other loss was a decision to Francis Ngannou. Spivac meanwhile scored a big submission win over Derrick Lewis in his last fight, but lost 2 of 3 before that. Given Gane's edge in wins, losses, modeling predictions and betting odds, I expect him to defeat Spivac in this heavyweight matchup. Gane has fought the tougher competition, is the more technical striker, and should be able to outpoint Spivac either to a decision win or late TKO. My prediction is a Ciryl Gane victory by unanimous decision.
A great start, certainly better than the pure stats approach from earlier but with a few more iterations on the prompt I can now provide you with a full report on this week's fights!
WolfTicketsAI Speaks:
The content below will be a mix of my editing(only removing text and adjusting heading levels) and responses from an LLM, I will note when it is only back to my own writing again.
Gane vs Spivac: Technique vs Power
Fighter Records and Common Opponents
Ciryl Gane (10-2)

Former UFC Heavyweight Title Challenger
Coming off a submission loss to Jon Jones in March

Serghei Spivac (10-3)

Won last 3 fights by finish
Defeated Tai Tuivasa by submission in 2019
Gane and Spivac have one common opponent. Spivac submitted Tai Tuivasa in October 2019, while Gane knocked out Tuivasa in September 2022.
Model Predictions
Profit Model: Gane (confidence: 18)
Odds Model: Gane (confidence: 18)
Plain Model: Gane (confidence: 19)
Key Stats
Gane has a 5-inch reach advantage
Gane lands 4.15 significant strikes per minute to Spivac's 2.42
Spivac has finished 80% of wins by KO/TKO or submission
Gane has won 6 fights by decision compared to 1 for Spivac
Conclusion
This fight pits Gane's technical striking against Spivac's raw power. The models are united in favoring Gane, likely due to his reach advantage and superior volume striking. However, if Spivac can close the distance, his KO power gives him a puncher's chance. Gane's recent submission loss also raises questions about his grappling. Overall, Gane is the rightful favorite, but don't count out Spivac scoring an upset finish.
Fiorot vs Namajunas: Rising Star Meets Former Champ
Fighter Records and Common Opponents
Manon Fiorot (5-0)

Undefeated prospect at flyweight
Coming off win over Katlyn Chookagian

Rose Namajunas (9-4)

Former UFC strawweight champion
Lost title to Carla Esparza in May 2022
Fiorot and Namajunas have no common opponents. This will be their first matchup.
Model Predictions
Profit Model: Fiorot (confidence: 17)
Odds Model: Fiorot (confidence: 29)
Plain Model: Fiorot (confidence: 17)
Key Stats
Fiorot has finished 80% of wins by KO/TKO
Namajunas has 7 wins by submission
Namajunas lands 3.2 significant strikes per minute to Fiorot's 2.72
Fiorot has 100% takedown defense in the UFC
Conclusion
This is an interesting clash of styles, with Fiorot's KO power against Namajunas' slick submissions. Namajunas has the big fight experience but is coming off a loss. The models favor Fiorot, likely due to her undefeated record and finishing ability. However, Namajunas can never be counted out. Her submissions and technical striking make her dangerous. Fiorot's takedown defense could be the key here. If she can keep it standing, her heavy hands give her the chance to hand Namajunas consecutive losses.
Saint Denis vs Moises: Grappling Battle
Fighter Records and Common Opponents
Benoit Saint Denis (4-1)

3 straight wins since UFC debut in 2022
Won last 3 fights by submission

Thiago Moises (10-4)

Has won 2 of last 3 fights
Has 5 career submission wins
Saint Denis and Moises have no common opponents. This will be their first matchup.
Model Predictions
Profit Model: Saint Denis (confidence: 14)
Odds Model: Saint Denis (confidence: 25)
Plain Model: Saint Denis (confidence: 19)
Key Stats
Both fighters have over 60% takedown accuracy
Saint Denis attempts 2.8 submissions per 15 min
Moises lands 3.11 significant strikes per minute
Moises has been submitted in 3 of 4 career losses
Conclusion
This lightweight matchup will likely come down to grappling. Both Saint Denis and Moises are excellent at securing takedowns and hunting for submissions. However, Moises' susceptibility to being submitted gives Saint Denis a clear path to victory. Coming off 3 straight submission wins, Saint Denis' aggressive jiu-jitsu should allow him to capitalize on any mistakes from Moises on the mat. The models favor Saint Denis, and his submission skills make him the pick in this grappling-heavy contest.
Loosa vs McKee: Striking vs Grappling
Fighter Records
Ange Loosa (2-1)

Won UFC debut in August 2022
Lost debut to Mounir Lazzez

Rhys McKee (0-2)

On a 2-fight losing skid in UFC
Lost to Khamzat Chimaev in UFC debut
Loosa and McKee have no common opponents. This will be their first matchup.
Model Predictions
Profit Model: Loosa (confidence: 20)
Odds Model: Loosa (confidence: 15)
Plain Model: Loosa (confidence: 22)
Key Stats
Loosa lands 5.33 significant strikes per minute
Loosa has 80% takedown defense
McKee averages 3.4 takedowns per 15 min
McKee has never won by KO/TKO
Conclusion
This fight comes down to Loosa's striking against McKee's grappling prowess. Loosa will look to keep the fight standing and use his high volume striking to control the action. McKee will aim to take Loosa down and grapple. Loosa's takedown defense gives him an edge in that battle. With all models favoring Loosa, his striking appears too much for McKee to overcome. McKee's path to victory involves getting takedowns and controlling Loosa. But Loosa's output on the feet should allow him to control the action and get his hand raised.
Farid Basharat vs Kleidison Rodrigues: New Kids on the Block
Fighter Records and Matchups
Farid Basharat (1-0) is a UFC newcomer with his only prior fight being a unanimous decision win over Da'Mon Blackshear in March 2023.

Kleidison Rodrigues (1-1) also has limited UFC experience. He won his debut via KO/TKO over Shannon Ross in February 2023 but lost a split decision to CJ Vergara in May 2022.

Basharat and Rodrigues have no common opponents or previous matchups. This will be their first time facing each other.
Predictions and Statistics
The Profit Model predicts Basharat to win with a confidence of 23.
The Odds Model predicts Basharat to win with a confidence of 19.
The Plain Model predicts Basharat to win with a confidence of 12.

The betting odds heavily favor Basharat at -350. Rodrigues is the underdog at +275.

Basharat has 100% finish rate so far, winning his only fight by unanimous decision.

Rodrigues is 1-1 in the UFC with a KO/TKO win and a split decision loss.

This bantamweight fight features two up-and-coming fighters. Basharat is favored to win given his perfect record, but anything can happen with such limited information. Rodrigues should not be underestimated as he has shown KO power.
Conclusion
The prediction models and betting odds point to Farid Basharat as the likely winner against Kleidison Rodrigues. However, with both fighters being relatively inexperienced in the UFC, this matchup is still competitive. Rodrigues possesses KO power that makes him dangerous, so Basharat cannot be overconfident. This should be an intriguing fight between two fighters aiming to move up the bantamweight ranks.
End LLM Assisted Section
What's Next
You now have stats and a concise narrative to give you insights on placing your bets this week.
The WolfTicketsAI weekly emails will start to make use of these reports first, then they are going to make their way onto the site natively.
More generations of prompts, more targeted insights, and perhaps more context on an entire career or weight class.
To support this work and get access to all predictions, stats, historical trends, and the weekly email signup at: https://wolftickets.ai
Good Luck!